Our History
The history of Atherstone Choral Society had its origins in the summer of 1973 when a few friends were persuaded to revive the traditional Christmas Messiah in Atherstone, North Warwickshire. An advertisement brought together fifty singers keen to take part and the project began from there. Autumn rehearsals led to a successful performance of Handel's much loved oratorio on 27th November in St. Mary's Church, Atherstone. Many of those involved wished to build on this experience and to form a permanent singing group.
The records show that Atherstone Choral Society came formally into being on 25th February 1974 at a meeting held at the United Reformed Church, Atherstone (closed in 1985) and attended by sixty or so enthusiasts. It was chaired by Dr John Stewart who became the first Chairman of the Society.  Ernest Wilkinson, a well-respected and gifted organist, became the first accompanist. The first public performance was given at the Grendon Church Flower Festival on 12th July 1974.
Bernard Powell (BMUS) (Birmingham) (1944 – 2010) was appointed as the first Musical Director.
The wisdom of Bernard Powell's appointment was immediately apparent. For sixteen years he was the inspirational disciplinarian who enabled ACS to become one of the largest and best amateur choirs in the land. Bernard was also a skilled arranger of music and many of his pieces are in use today.
Bernard's career focused on music education. He spent many years at North Warwickshire College where he set up and developed a vibrant music department providing community music opportunities to all ages and levels as well as developing specialist Music Courses from which students progressed to universities and specialist music colleges. From this Bernard moved to Leicestershire as Director of Leicestershire Arts, the music, dance and drama peripatetic service, where his inspirational leadership continued until he retired in the mid 1990s. His retirement was sadly cut short by his untimely death at the age of 66 in 2010. He remains a much-loved part of the history of ACS.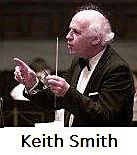 Keith Smith B.A, MMUS, ARCM, LGSM joined Atherstone Choral Society in 1990 and was influential in the further development of the choir.
Keith was born in Leicestershire. He had early success as a singer and then began to study both violin and piano. Following teaching posts in Leicestershire and Oxfordshire, he was appointed Conductor of the Southampton Youth Orchestra, a position he held for 25 years. In addition, for many years he held prestigious conducting appointments with both Leicester Symphony Orchestra and the Leicester Philharmonic Choir. He has conducted a number of major orchestras at home and abroad and his career has taken him all over Europe, to America, Canada and China.
Peter Heming MVO took over the MD role in Atherstone Choral Society in 1993.
Conductor, composer and arranger, Peter was born in Nottingham and studied composition and conducting at the Royal Academy of Music, London. He has conducted at the Ambassadors Theatre, Woking, the Guildhall, Portsmouth and at Guildford Cathedral with The London Mozart Orchestra, chorus and soloists. Peter has toured Japan and the East Coast of America with the Mantovani Orchestra and Chorus and recorded two CD albums with them. Peter also has associations with the Royal Choral Society and the Cape Cod Symphony Orchestra and has written arrangements for them. Peter was, in 2011, Principal Conductor and Artistic Director of the London Show Orchestra which he formed.
In 1995 Lt Col (Retired) P R Evans FVCM Hons, LTCL, AMUS LCM, PSM, RE was appointed as Musical Director.
Phil Evans had a distinguished musical career in the British Army. As a young soldier he was one of the Royal Trumpeters at Caernarvon for the investiture of Charles, Prince of Wales. At retirement he was Director of Music, Band of the Corps of Royal Engineers and the Army's senior musician.
Phil had worked first with Bernard Powell and ACS in concert on a number of occasions. He was so impressed with the quality of the choir and with the range of its music that he travelled weekly to rehearsals from Kent for the next 12 years. Under his baton ACS continued to perform the mix of classical and popular music that has become its hallmark and to appear in halls large and small around the country. Notable events included a number of successful charity concerts, the first ever mixed choir to sing at the Shrewsbury Flower Show (with massed Military Bands, cannon and fireworks!) and the British Legion's Midlands Festival of Remembrance at the Symphony Hall in Birmingham.
Our present Musical Director Kevin Gill, GBSM, FRCO, LTCL, was appointed in 2008.
Kevin was born and educated in North Yorkshire. He studied music at the Birmingham School of Music (now Royal Birmingham Conservatoire). In addition to ACS, he is organist at St James The Great, Shirley, accompanist for several local choirs including Birmingham Festival Choral Society, and a music teacher and examiner.
Around this time the choir moved from the old Queen Elizabeth school to its current rehearsal venue in Racemeadow Primary Academy – car parking and access were improved, and happily there was a kitchen for half-time refreshments.
It is our hope that the people of Atherstone, North Warwickshire and others further afield, will continue to enjoy and support ACS for many years to come.